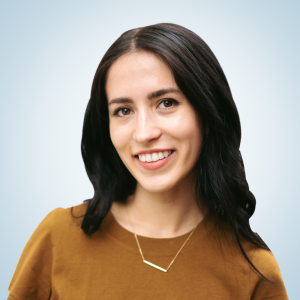 Kimberly is Senior Vice President of Design at 617MediaGroup, where she lends her expertise to brand development and collateral for union and advocacy partners and campaigns. While maintaining a positive, can-do and helpful approach to all of her work and for all of our clients, Kimberly provides superior quality graphic and web design services as well as visually appealing, user-friendly, high-quality design and copy support.
The experience Kimberly offers the agency is founded in her history of working in the design industry with a strong arts and design background skilled in photography and Adobe Creative Suite. 
Prior to joining 617MediaGroup, Kimberly worked in a variety of digital, print, and environmental mediums, ranging from UX/UI internships to designing experimental way-finding and publications for governmental clients, including the World Bank Group. She also provided marketing and web design services at a boutique public relations firm in Philadelphia.
Kimberly graduated magna cum laude from the Corcoran School of Art and Design at The George Washington University with a Bachelor of Fine Arts in Graphic Design. Outside of 617MediaGroup Kimberly is an accomplished freelance photographer. Her work was exhibited at the Corcoran Gallery of Art in Washington, D.C. and Bezalel Academy of Art and Design in Jerusalem.